Siege USA is leading the way in modern effective simulator training to military and law enforcement professionals.
Our Mission
We strive to provide high quality virtual firearms training to military and law enforcement professionals utilizing MILO/SMART simulator technology. Virtual simulation training has proven to reduce unfavorable incidents across the country and at Siege USA we pride ourselves on facilitating this high quality training. We can administer pre-recorded scenarios in use of force or create Department specific scenarios based off your exact needs. There is no need to purchase the equipment as we bring it to your location to facilitate the training. You utilize your own qualified trainers to administer training, we provide the equipment and expertise on its operation. 
Our Facilitator
Meet Phillip, a US Navy veteran and Nuclear Security Professional. Phillip spent over five years in the Navy as a Corpsman with 1st Marine Division. His tours began with 3/1 Scout Sniper Platoon where he participated in Operations Determined Response, Southern Watch, and humanitarian assistance operations in East Timor. He then rotated to 1st Combat Engineer Battalion where he participated in Operation Iraqi Freedom I and II. After leaving the service he completed his Bachelors in Political Science International Relations and his Master Degree in Business Continuity, Security, and Risk Management. He started in nuclear security in 2009 as a uniformed officer and worked his way up to Security Manager at a nuclear facility holding various manager and supervisor positions along the way.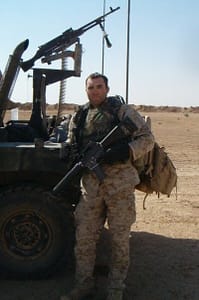 The four biggest issues facing all law enforcement agencies — no matter the size or what part of the country they're in — is budget cuts, ammo shortages, lack of live-fire ranges and the lawsuits that follow.Today's world is very different than it was even 14 years ago when I started my career in law enforcement, and so is technology. Although the initial cost can be significant to a department, simulators can significantly cut the overall costs for training long term.From both my personal experiences and what I've seen training wise, as long as officers are using realistic weapons, getting realistic recoil from those weapons and increasing their stress levels significantly while making critical use of force decisions, then departments will lower their liability while enhancing their officers abilities to come home safe.